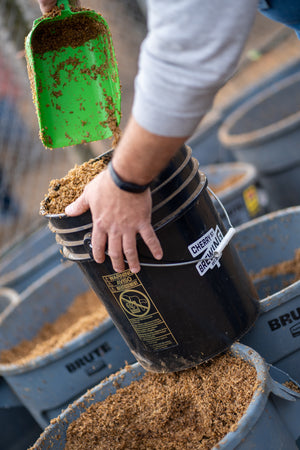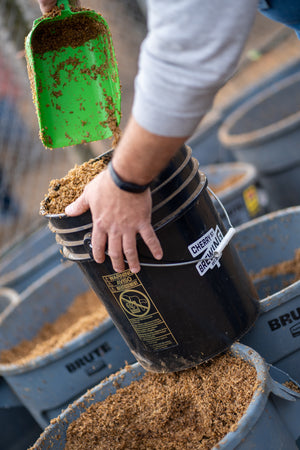 A Farm That runs on beer... and a chicken named acid
Not really beer, per se but it is powered by our spent grain. It all started about a year and a half ago, in the throes of a worldwide pandemic when Jason of Speckled Red Farm answered an ad on Craigslist looking for a farm to take donated grain. "Stephen [the director of brewing] reached out to me. I did a little research on the spent grain and then we went from there," says Jason.

Spent grain is what's left after brewing a batch of beer. It contains leftover malt and adjuncts after the mash has extracted most of the sugars, proteins, and nutrients. What's left is barley that still has proteins and fiber.

We had been looking for a farmer to donate grain to for a while and when we learned about Speckled Red we found them the perfect candidates as recipients of our spent grain.
The Speckled Red Farm is run by Jason, his sister, and her husband. The farm is home to chicken, ducks, sheep, goats, and cows, and a few other lovable critters. All livestock on this family farm are pasture raised and the family's livelihood.
As part of our commitment to sustainability and waste reduction, our partnership was a match made in heaven. "Anytime you can take anything that was meant as a food product or from a brewery, that grain, any time you can take that grain and put that back into the environment, because the cows eat it, the sheep, the goats, the chickens, the ducks, everything eats it, that way you don't gotta waste nothing. It's beneficial for everybody." says Jason, who picks up the grain about once or twice a week from both of our Georgia locations.
The reuse of this grain isn't just beneficial for the environment, it's beneficial for the farm's animals too. Jason explains, "they hold their weight good, their milk production is up, and with the calves... the growth rate is phenomenal." Even "the lambs have the milk goiters because their moms are producing real good milk." his sister adds. They noticed these differences in their livestock ever since they started using Cherry Street grain as feed.
The animals are thriving, particularly a couple stars of the farm. Notably there's Acid, a Polish chicken, which are known for their huge bouffant crest on their head, giving them a "wacky" appearance sometimes. Jason likens him to Mick Jagger when he gets on a roll. There's also Big Red the cow, and as her name implies is a massive cow with tons of personality, her weight gives her an advantage at the trough, boxing out the other cows. 

We're grateful for those in our community that contribute to and support our commitment to keeping the world clean. Cherry Street is fortunate that these partnerships with local entities help us in our mission to continue sustainability as we grow. And getting to save the world like a certain eco-conscious superhero while we're at it? Well, that just makes it all the more rewarding.