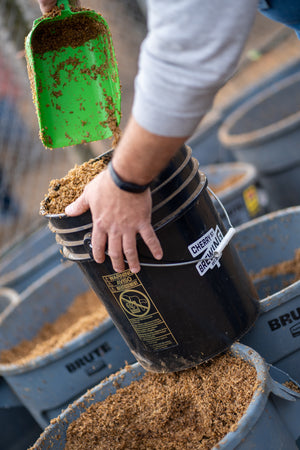 Part of our mission, part of our planet
At Cherry Street Brewing we take a couple things very seriously: great beer and keeping our planet clean. Our three main missions here at Cherry Street involve community, education, and sustainability. We are committed to taking care of the planet through reducing our waste, reusing where we can, and rethinking our consumption. When you drink a Cherry Street beer, you're supporting sustainable efforts and choosing a brighter, cleaner future for our world.
Reduce
• We reduce waste into landfills by donating our spent ingredients from brewing operations to local farmers.
• We also reduce water waste by collecting and reusing water from brew days.
Reuse
• We're part of a local group in Chattanooga who takes our grain bags, and donates the bags to a local compost company, who uses the bags to weigh out and sell compost to their composting community.
• Carrier tops for 4-packs can be brought in to our locations where we can reuse on them on new 4-packs or dispose of them properly for you.
• Our spent grain is reused by local farmers, and our water from brewing is collected and reused.
• You can bring in one of our growlers you've purchased or a growler of your own to be sanitized by our staff, then reused.
Recycle
• We proudly use cans to distribute our killer beer. Aluminum is infinitely recylcable- it's the only thing that can turn back into itself, unlike bottles.
• With our tear away can art, our cans are 100% recyclable. Just rip the perforated seam, rinse out your can, and recycle where appropriate.
• Your favorite 6-packs are completely recyclable. The cardboard box, carton carrier, and cans are all able to be recycled.
If you want to learn more about who we are and what we're about, check out Our Story to see what else our company stands for.