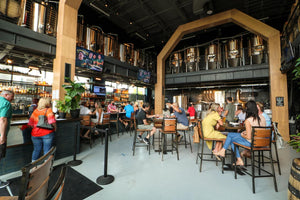 At Halcyon in Alpharetta, ga
Halcyon Packages
Our Brewhouse at Halcyon is the perfect space for hosting your event if you're looking for a mix & mingle, cocktail party atmosphere. We offer a variety of packages to accommodate your party's size and food + beverage needs. Choose from open bar, drink tickets, or individual tabs for your celebration. All packages include dedicated cocktail bar staff, an event coordinator, full bars to choose from beer, wine and liquor, as well as an option to pre-order appetizers to be on table for your guests' arrival. The outside patio is not available for reservation. Reservation fees do not include food or beverage.
You can pick from the following options below:
CASUAL BREWHOUSE RESERVATION $225
UP TO 15 GUESTS
RESERVATION $200
• 3 of our best tables in the brewhouse with a standing table for mingling.
• Pre-ordered appetizer options available.
• Ordering off-menu available.
UP TO 45 GUESTS
HALF BREWHOUSE RENTAL
TUESDAY-THURSDAY $350 / FRIDAY-SUN $450
• Semi-private rental section will be roped off for event attendees with the other half of the Brewhouse open to bar guests.
• 3 hour rental.
• Buffet preordered appetizers, or limited menu available.
• Coordinator on site.
• Tuesday-Thursday $1,500 food + beverage minimum.
• Friday-Sunday $2,000 food + beverage minimum.
FULL BREWHOUSE RENTAL
UP TO 90 GUESTS
• 3-hour time block of a private full rental of the Brewhouse with a catered setup or a plated limited menu.
• Coordinator on site.
• Availability is limited and is not available on Monday, Friday, or Saturday nights.
• Tuesday, Wednesday, and Thursday $850 rental fee, $3,500 food + beverage minimum.
• Sunday $1,000 rental fee, $4,500 food + beverage minimum.