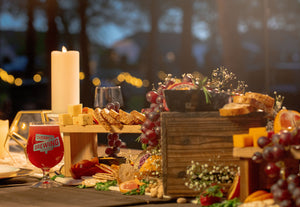 Tell us about your celebration
Celebrating you
We have customizable packages to ensure you the best offerings for your event. Our dedicated Event Director & Event Coordinator will guide you throughout your event experience with a team of experienced catering and bar staff, from first inquiry to the end of your night. You get to choose from bar packages and catering menus from either our Halcyon or Vickery Village location to celebrate with us or for us to bring the party to you. We provide private events and corporate banquets plus gala catering, all brought to you at a location of your choice or at one of our brewpubs. Let us know about your wedding, rehearsal dinner, birthday party, work happy hour and more.

Why choose Cherry Street Events?
Looking for a catering experience that's as unique as you are? Look no further! Our team specializes in bringing your vision to life, whether that's brewing a specialty, small batch beer just for your event with a custom label, creating cocktails that match your theme, or designing a menu that's completely tailored to your tastes. With our bar trailer, we'll bring the party straight to you and set the stage for an unforgettable event.
When it comes to drinks, we've got you covered. Our cocktail specialists are true artists, and they'll create drinks that not only taste amazing, but also match your desired style and color scheme (think lavender-hued drinks for a purple-themed bash, or orchid-colored cocktails for a pink-themed soirée). And if beer is more your thing, we'll work with you to create a brew that's perfectly suited to your event.
But we're more than just a drinks provider – we're a full-service catering company that's dedicated to making your event the best it can be. That's why we offer a completely customizable menu, with options for every palate and dietary preference. If you don't see what you're looking for on our menus, just ask and we can make it happen. All of our bartenders and catering team are certified, licensed, and insured, so you can relax and enjoy your event without worrying about a thing.
So what are you waiting for? Let us help you bring your event to life with our unique, personalized catering services. Contact us today to get started!
Vickery Village PAckages
Choose our Taproom at the Vickery Village location for your memorable event, as it's perfect for warm, intimate gatherings. We offer a variety of packages to accommodate your party's size and food + beverage needs. Choose from open bar, drink tickets, or individual tabs for your celebration. All reservations include a dedicated cocktail bar staff plus a full bar with beer, wine, and liquor to choose from, and a dedicated restroom. Our Event Director or Coordinator will be on site to ensure your event runs as smoothly as possible. We currently offer a full catering buffet set up or a limited pre-set menu.
Halcyon Packages
Our Brewhouse at Halcyon is the perfect space for hosting your event if you're looking for a mix & mingle, cocktail party atmosphere. We offer a variety of packages to accommodate your party's size and food + beverage needs. Choose from open bar, drink tickets, or individual tabs for your celebration. All packages include dedicated cocktail bar staff, an event coordinator, full bars to choose from beer, wine and liquor, as well as an option to pre-order appetizers to be on table for your guests' arrival.
In-House Events
Host an incredible event in an unforgettable atmosphere. We provide fresh food, killer beer, and amazing environments for you to mingle and party. Our reservations include dedicated restrooms, cocktail servers, TVs for presentations or slideshows, and a full bar.
Corporate events
Host your next work happy hour, company holiday party, or networking event with us! Our in house events can provide food options, bar packages, and a space for presentations complete with TVs. If you would like us to bring our services to a destination of your choice, we can come to you with food, beer, and any rentals you may need! Contact us today for your banquets, galas, and corporate luncheon events.
Weddings
Our years of dedication and experience in catering to couples helping to celebrate their big day make us the ideal choice as a one stop shop for your wedding. We'll bring what you need including custom bar packages with curated wine and cocktails with mixologist, plus staffing and rentals for your wedding day-- everything you need to make your day complete.
Rehearsal Dinners
Build the excitement leading up to your wedding day with a one-of-a-kind celebration at an off-site location of your choosing or at one of our breweries.