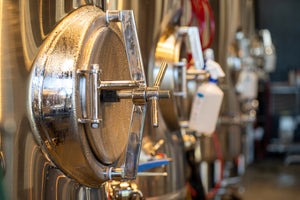 Specialists and experts bringing you exceptional beer
Nick Tanner
Founder / Owner / Brewmaster
Nick was born in Atlanta, Georgia and moved to Fort Collins, Colorado after
graduating high school. In 2005, Nick went to Colorado State University for a Major in Natural Resource Tourism and a Minor in Business.
While living on Cherry Street in Fort Collins, the idea of the brewery came to fruition. In 2006, Nick and his roommate Zak created a homebrew club called Cherry Street Brewing Cooperative. Nick learned that beer is social, humble, and also charitable.
In 2009, Nick moved back to Cumming to help his dad, Rick Tanner, run the restaurant Rick Tanner's Chicken. After some years of success, Rick and Nick decided to open up a brewery.
After 11 long months of working with Forsyth County, Cherry Street Brewing Cooperative was founded on December 12, 2012.
Alisa Tanner-Wall
Owner
Alisa Tanner-Wall is co-founder and co-owner of Cherry Street Brewpub at Halcyon and Cherry Street on Northshore. Alisa grew up in the restaurant industry shadowing her entrepreneur father, Rick Tanner.
In 2009, Alisa attended J. Mack Robinson School of Business at Georgia State University, majoring in Business Hospitality. She graduated on the Dean's List and was awarded the Cecil B. Day Scholarship
in Hospitality Achievement in 2013.
After being the General Manager for six years at the Cherry Street Brewing at Vickery Village, it was time for Nick and her to take the next step. In 2019 they opened Cherry Street Halcyon. She is solely responsible for the culture at CSB Halcyon being a welcoming, warm, and relaxed environment.  
Beginning of 2020, Alisa was nominated to join the Board of Directors for the Forsyth County Chamber.
Brewing Team
Stephen Vigneault
Nate Schieber
Bryan Harris
Mitch Smith
Britt Teusink
Vickery Village Head Brewer
Desiree Dallas
Cherry Street Events
Hannah Whitney
Joel
Cherry Street at halcyon
Kirstie Allen
General Manger / Regional Manager in training
Chelsea Miller
Beverage Director / Halcyon & Vickery
Tommy Roberts
Assistant General Manager
Cherry Street at Vickery Village
Rick Tanner
CT
Alan Knight
SAMANTHA PRINCE
Jon
Cherry Street at Northshore
Ashley Smith
Lindsey Wells
Assistant General Manager
Steve Patafio
Preston Wright
Marketing and Sales
Chase Wall
Jenna Eisenhauer
Karlie Lucas
Laura Walsh
Digital Marketing Specialist