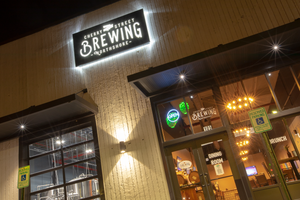 Relax & Refresh
Brewery and restaurant in Chattanooga's Northshore offering the best beer, lunch and dinner, plus brunch on the weekends!
Our Newest Location
We are Chattanooga's Northshore district brewery and restaurant bringing you the best beer and food in the city. Discover the best beer in Chattanooga while dining where locals love to eat when you're at our brewpub. Our family-friendly dining room and dog-friendly patio offer seating options for everyone, and our 21+ bar and lounge are situated close to the brewing action. We have a full-service kitchen complete with chef-inspired pub fare, brunch, kids meals, plus vegan & vegetarian options. Cherry Street Northshore is an essential destination for locals and visitors alike, stop in for the best beer and food in Chattanooga today!
Order Online
Get Cherry Street food direct to you! Order online now through Uber Eats to grab fan favorites like the Bacon Cheddar Classic, Thunder Wrap, Fish n Chips, and more.
Uber Eats
Happy Hour
Every Monday through Friday from 3pm - 5pm, join us for Happy Hour specials! We have beer and food available at a price to get your evening started right! Come by for:
$4 pours of any 16oz beer
Half off loaded pub dippers
Half off cheese curds
Menus are updated weekly. Availability is subject to change.
Hours & Info
Dining Room - Family Friendly
Serving full lunch and dinner menu, kids menu, and weekend brunch.

• Monday - Wednesday: 11am - 9pm
• Thursday - Friday: 11am - 10pm
• Saturday:
Brunch: 11am - 3pm
Lunch and Dinner 3pm - 10pm
• Sunday:
Brunch: 11am - 3pm
Lunch and Dinner: 3pm - 9pm
The Hopaway Lounge (21+) & dog + family friendly Patio
• Monday - Wednesday: 3pm - 9pm
• Thursday: 3pm - 10pm
• Friday - Saturday: 12pm - 10pm
• Sunday: 12pm - 9pm
Pups on the Patio Menu
Weekly Happenings
Monday - Friday
Happy Hour 3pm - 5pm
Monday
Music Bingo 7pm - 9pm
Industry Night 3pm - 9pm
Wednesday
Wing Wednesday (half off wings) 4 pm - close
Pub Poll Trivia 7pm - 9pm
Thursdays
Kids Eat Free 3 pm - 8 pm
Family Bingo 5:30pm - 7:30pm
Live Music Every Friday
Celebrate with us
Book an event
Now accepting reservations for your next corporate or holiday happy hour, mix & mingle, birthday celebration, or any occasion! We offer buyouts on Mondays and Tuesdays, plus sections like our lounge area with couches and chairs, or a group of large hightops for larger parties every other day of the week. Please inquire about availability by contacting us below.
inquire here
Find us at AT&T Field
Find Cherry Street Brewing's beers at the Chattanooga Lookouts' AT&T Field! You'll find our beer brewed locally in Chattanooga, TN at the 3rd base beer hut. We've created special 16oz versions of two of our most popular beers, Lake Beer Lager and Digital Recess, so there's so much more to enjoy while taking in a game. Crack open a fresh one and see that Cherry Street Brewing and Lookouts baseball is a home run pairing.
More Info