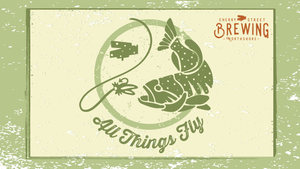 5pm, August 24th | Northshore
The Raffle
Raffle tickets available for:
$10 each
$50 for 6 tickets
$80 for 10 tickets
Tickets will be available from 4pm - 8:55pm. Entrants must be present to win prizes. We have over $1000 in prizes up for grabs! Keep updated on our socials to see prizes, donations, and more.
Stay connected
Meet Our Vendors
Hannah Griffin Art • TN Fly CO/Ranger Outdoors • Site 7 Camper Vans • The Hatch Outfitters • Fly Doctor • Chattanooga Fly Fish • Dorsal Outdoor • Chouinard Outdoors • Chattanooga Creek Flies • Number Ten Steakhouse • Rock Creek Outfitters
Learn More About our Sustainability
At Cherry Street Brewing we take a couple things very seriously: great beer and keeping our planet clean. Our three main missions here at Cherry Street involve community, education, and sustainability. We are committed to taking care of the planet through reducing our waste, reusing where we can, and rethinking our consumption. When you drink a Cherry Street beer, you're supporting sustainable efforts and choosing a brighter, cleaner future for our world.
Learn More