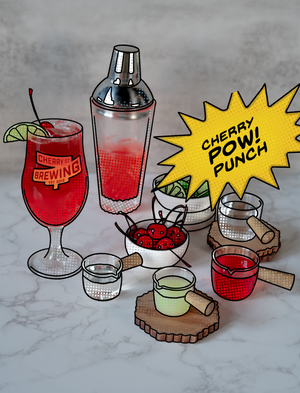 taste that fresh Pow!
To really highlight the flavors of our Cherry Limeade! fruited sour ale, we amplified the already fresh and delicious flavors of key lime plus tart and sweet cherries of this fruited sour ale in an easy to make beer-tail. Our Beverage Director Chelsea Miller developed a craft cocktail you can make at home with simple ingredients that can be found at a grocery store. This super refreshing and delightful beer-tail is perfect for porch sittin' and sippin' on those warm days that are quickly approaching. To make this beer-tail have the following ingredients ready:
1 oz vodka
.5 oz maraschino cherry juice or grenadine
.5 oz fresh lime juice
.5 oz simple syrup
1 can Cherry Limeade!
Shake vodka, cherry juice or grenadine, fresh lime juice, and simple syrup in a shaker tin for ten seconds. Pour into a 16oz glass over ice. Top with Cherry Limeade! fruited sour ale. Sit back, relax, and enjoy!
The sensational new adventure!
This berliner weisse is jam-packed full of lip-smacking good cherry sweetness and lime tartness. Crack open a can and WHAM! Your taste buds will feel the kapow of fresh, sweet & tart juices. A truly tart refresher that will POW! your thirst and ZAP! the adversary of enjoyment: boring beer. 
Spotlight: Cherry Limeade!
A Berliner Weisse is a tart German Wheat Ale that is kettle soured and then fermented with tart & sweet cherries & key lime juice. We kettle sour with lactobacillus, a probiotic similar to what is in yogurt, which causes a pH drop to around 3.4. This provides a tart, effervescent character similar to a sweet tart.

Style: Berliner Weisse
ABV: 4%
IBU: 10
Request a Keg
Get a keg filled at one of our three locations. Submit a request for the size and style you'd like and we'll make it happen.
Go Now