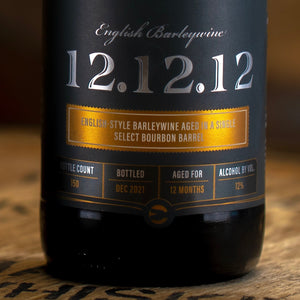 US Open Beer Championship Awards
see our award winning beers
Bringing Home the Gold
The US Open Beer Championship held its annually occurring judged competition for breweries to enter their best beers for recognition in several different categories on July 11, 2022. Out of more than 9,000 entries and 125 possible beer styles we brought home 5 awards total:

GOLD:: 12.12.12. | Barrel-Aged Barleywine
GOLD:: Damebier | Barrel-Aged Scotch
SILVER:: VIP Quad | Barrel Aged Quad
BRONZE:: Unknown Impact #1 | Barrel Aged Barleywine
BRONZE:: Atomic Funk | Brett Beer

Read more below to see some remarks from our Founder and Brewmaster, Nick Tanner.
We are beyond thrilled to see our winnings at this week's US Open Beer Championship. Congratulations to all of our brewers and staff that put it all in to make these beers. We take great pride in our Barrel Aged Program and it is amazing to have the judges feel the same. These winning beers are not just any beers, they are some of our most coveted brews and beers we are most proud of. 

At our Vickery Village Location, Damebier and 12.12.12 have been in our lineup since almost the beginning now. These 2 beers are some of our highest ranked and most awarded. Unknown Impact #1 Barleywine was brewed at the beginning of covid when everyone was in the shutdown and we didn't know the fate of the world at the time. 22 months later, this beer pops out. It was actually brewed in a similar makeup to 12.12.12, but with a different hop schedule. It's awesome to see that Halcyon pulled 2 awards from the smaller barrel program there. The VIP Beer Fest Quad took third place and was one of the best beers I think we released at Halcyon this year so far, it's not over! If you didn't get any of this, make sure to get VIP Beer Fest tickets next year for a one-of-a-kind barrel-aged brew! And lastly, Atomic Funk is a puncheon barrel-aged Brett Golden Ale aged on whole blueberries. Bottle release coming soon. Both of these beers have taken a lot of time and dedication. 

We still have spots remaining in our Private Barrel Society membership of only 75 total. If you like our Barrel Aged beers, you do not want to miss out on this extremely limited opportunity. As a matter of fact, the first 3 beers released in the program next month will be 2022 Damebier in EH Taylor barrel, Unknown Impact #2 Barleywine, and a 44month aged Pastry Barleywine with Coconut and Pistachio as a collab with Eighth State Brewing.