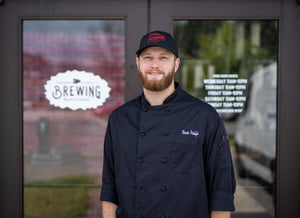 the man behind the menu
With the debut of our full menu in Chattanooga, TN we wanted to give you a glimpse of the makers behind the food and tell the story of the inspiration behind some of these popular menu items as well as the motivations of our Executive Chef, Steve Patafio.
If you've noticed, our menu at Northshore is an eclectic mix of items ranging in variety of cuisines, styles, and flavors. The development of the menu was heavily influenced by Steve and his passion for cooking. The inspiration comes from "everywhere" according to Steve, "certain menu items were born from nostalgia; the Stoney Bologna sandwich was born from random cravings for a childhood favorite, fried bologna sandwiches. This menu also pulls some inspiration from the two amazing Greek restaurants my buddy's family owns back home in New York," he says. These spots inspired the Feta Saganaki and the Falafel Platter on our menu.
The inspiration also comes from a newfound source, "Chattanooga's vegan and vegetarian presence also has been a big inspiration for me since moving here last year," says Steve. With some of our loyal plant-based patrons in mind, he created the Southwest Black Bean Burger, The Roasted Heart-ichoke Sandwich, and even a vegan Gnocci, only to name a few of the many options. His cooking outside the CSB kitchen also lends a hand in some of the menu's creations. Recently, he's been cooking up a lot of Asian dishes at home, so the Korean BBQ for our wings and pub dippers was a must. No matter the flavor of the week, his all-time favorite cuisine is Italian- reminiscent of large family dinners back home with big bowls and platters of food being passed around a table crammed full of relatives. 
Steve has always been surrounded by vibrant flavors and family meals that encouraged his love of crafting unique eats. He started his venture into cooking at a young age, by making homemade french fries from scratch with his grandparents in New York and learning the "secret family recipes" when he was a kid, which were all motivation enough for him to continue cooking. From working the counter of a bagel store on Long Island to cooking in country club kitchens in Cumming, GA, he picked up new skills and recipes along the way.
His story with Cherry Street starts when we opened in Vickery Village essentially. He remembers "being there while Nick [our founder & brewmaster] sat with some waivers on a clipboard in one hand and a sledgehammer in the other when they expanded and added on the barrel room." Before that was an early memory of going to lunch with his dad at Tanner's, now Cherry Street Brewing at Vickery Village, and applying for a gig in the kitchen. He didn't get the job then, but his experience working in country clubs in Georgia was crucial to taking the next step. Those jobs are what he credits the most for the development of his culinary skills before getting a job with Cherry Street Brewing at Halcyon when it first opened 3 years ago. 
Choosing Cherry Street was an easy decision, as he'd made friends with management as a guest and admired the brewery's growth from the other side of the bar. This brewery stands out with it's own "secret sauce" of sorts, to him the thing that makes Cherry Street so unique is that "it still has that original Co-Op feel, even through all of the growth." It was a great match for him to bring his leadership skills to the team-oriented company, and ultimately into the kitchen, running it like a finely tuned sports team with impeccable timing, execution, and communication. "I think growing up as an athlete taught me those leadership qualities," says Steve.
Bringing these experiences to Chattanooga in the form of our menu is a melding of time, craft, and passion. Another original to the menu is the Chatty Chop. "Chatty Chop style was another menu item born from nostalgia. Chatty Chop style was inspired by the New York City bodega sandwich, the Chopped Cheese - a simple but delicious sandwich of chopped beef and onions mixed with melted cheese and served on hero bread with lettuce, tomato, ketchup and mayo. Chatty Chop style brings another dimension to our smash burger - transforming them into entirely different sandwiches," he says.
As for weaving himself into the fabric of Chattanooga, he's managed to find a tight-knit community in the local adult inline hockey league, Chattanooga Hockey, after being on an ice hockey team for several years in Alpharetta, GA sponsored by Cherry Street Brewing. Learning the closest ice rink around being two hours away was a bit frightening at first, but now having lived in Chattanooga, to him the people make up for the lack of an ice rink. "Chattanooga has a little of everything. There is somehow this mix of city and small-town feel all at once, which I love, but I think the thing that resonates most with me has really been the people. There are so many communities of people here and they're all so friendly and welcoming," remarks Steve.
His favorite thing to make in the CSB kitchen? "It's either our smash burgers or the prime rib for the Prime & Cheddar. There's just something so satisfying about cutting into that prime rib and seeing that wall-to-wall pink of a perfectly cooked prime rib" he says.

He has high hopes for our new restaurant too, when asked about our future, he says, "I want to see Cherry Street Northshore become a community staple... and in the next 5-10 years, the sky is the limit for us."
If you want to see our menu and all of Steve's offerings, check out the menu through the link below.