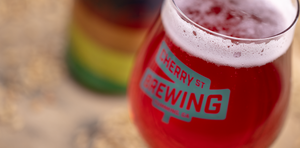 changes in distribution in chattanooga
Lipman Brothers Distribution aquires our chattanooga territory
When we opened our brewery and began operations in Chattanooga over a year ago, one of the most attractive things to us was the option of self-distribution. We could forge our own path, make the market what we wanted, and blaze a trail like no one had before. It meant a lot to us to get a deeper understanding personally of who was in the market and where would be best to get our beer in the hands of a new generation of customers in a new state. Truly, it has been an eye-opening and fulfilling experience for us to learn about our accounts and customers firsthand. 
A day in the life of our Tennessee sales rep during our self-distribution days saw a lot of administrative work, and while he was happy to facilitate relationships that way, he knew his true calling- to be out in the field making connections and being face-to-face with accounts and customers. Our driver lovingly delivered our killer beer all over the county, sometimes pulling long days with such a great demand for our beer in bars, restaurants, bottle shops, and festivals. Being that our beer is some of the most award-winningest and sought-after in the area, the demand kept growing; a great problem to have. Our goal has always been to provide an invaluable, personalized service for our accounts, but in offering self-distribution we quickly realized our demand was going to continue growing, possibly beyond our capacity. 

Enter, Lipman Brothers distribution. Lipman Brothers is the premier distributor in Tennessee, and carries only the finest selection of products in its inventory. We've been working with Lipman Brothers for almost a year now in other markets across Tennessee and have been thrilled with the level of professionalism and connection to outside markets they've been able to provide for us, and in turn, to you, our loyal fans. When faced with the reality that we've begun to outgrow our self-distribution roots, the call was an obvious one: have Lipman Brothers take over distribution in Chattanooga and southeastern Tennessee. 
"Lipman has seven sales reps that work in Southeastern Tennessee, so going from one to eight reps overnight allows our great products to be even more available," says Nick Tanner, Founder and Brewmaster here at CSB. Now our Southeastern Tennessee sales rep will be able to further deepen our relationships with local accounts and join in unison with Lipman Brothers in serving Chattanooga. This way we're able to reliably bring accounts that same personalized service from our representative in addition to that of the group from Lipman Brothers. What does this mean for accounts? It's easier than ever now to order beer in a streamlined fashion. There is a team of dedicated, professional individuals that are able to handle all facets of the purchasing process from communication, to ordering, and delivery.

As for our growth, the move to Lipman Brothers taking over distribution and sales means that our footprint can expand across Tennessee due to the increased support. In-person visits to existing accounts can now occur more frequently, and eventually, we'll enter new markets like Nashville and beyond. With Lipman Brothers behind the wheel, we now have time to support the distributors and represent ourselves outside Hamilton county at beer fests, tap takeovers, and other events. So now customers will be seeing Cherry Street Brewing's beer in more grocery stores, bottle shops, and bars than ever before. Lastly, we'll be able to further ensure beer quality in the market with a rep monitoring our beer to be the freshest, best-tasting beer possible.   
"We're very proud [Lipman's] taking over," says Nick. In partnering with Lipman Brothers for distribution for the greater Chattanooga area, we're entering the market in exciting new places. The strong networks and trust that Lipman Brothers has developed over the years of its loyal service to the Chattanooga clientele and elsewhere allows local businesses to know they're getting the best and highest quality product as fast as possible to ultimately end up in your hands.
Lipman Brothers is currently the only distributor in the state of Tennessee to carry Cherry Street Brewing's beer.