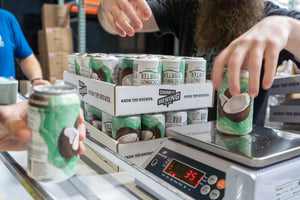 bringing our brews to you
Where do they go?
So you know that we opened our third location in Chattanooga. If you've been there, you've seen our big facility that's able to pump out tons of cans. Where do they go? As of right now largely Georgia, but we have some plans in the works to distribute throughout the Volunteer State. To get more information on this, we spoke with our Director of Sales, Ramsay Florence, who is heading the charge to expand our reach throughout Tennessee.
What does getting with Lipman Brothers distribution mean for our brand?
Signing with Lipman will allow us to reach a footprint where we don't have the resources currently to service correctly in self distribution. While we will always continue to self distribute in Hamilton county; Lipman will help spread our brand further in our own backyard with the connecting counties and further outward in Tennessee. The benefit of a partnership with Lipman will also be to pursue channels that we couldn't access on our own or what would be a much more limited capacity on our own. As an example, as our journey continues to build with grocery and convenience store accounts, Lipman's established connections in these channels will allow us to be placed and sold and thus continuing to reach a wider demographic of beer drinkers. Essentially it is a way to create heightened exposure to our brand.

What are the next steps for distribution in TN?
Initially with Lipman, we are focusing on our neighboring five counties to start. That's Bradley, Franklin, Grundy, Sequatchie, and Marion. From there we will next focus on Knoxville, and Johnson City, as well as their surrounding counties. We should start popping up in these cities and counties by the Summer. By the fall, we intend to head back west and begin to populate Nashville and the surrounding counties.
Lipman doesn't cover the whole state of Tennessee, they do not service 22 counties. So we are in the process of discussing business with an additional distributor to handle that part of the state. We will move forward with signing most likely by Summer to launch in the fall or winter before the year is up. Proportionally, as we expand, we are beginning to go visit accounts in these counties, and setup promotional events to properly introduce ourselves.
Looking to the future, we will expand into other states through wholesale distribution as well, but for 2022 the focus is growing our respective backyards in Georgia and Tennessee.

What can the new markets bring to Cherry Street?
An opportunity to further tell our stories to new and existing consumers, as well as plenty of delicious beer. In addition, opportunities as well to be a part of events, concerts, etc by which we can continue to grow as part of the Tennessee Craft Beer Community. With that, as we have always done, it will also allow us to pursue fund raising with charities to further strengthen communities across Tennessee.

How can Cherry Street grow more by entering these new markets?
It's a chance to continue to refine what we do. And we will grow by adapting to the unique demand of each of these markets. No two markets should be the same, and the beauty of that is it will allow us the flourish creatively by producing styles not previously mass distributed by Cherry Street. Lake Beer is a prime example of this. Prior to 2022, this was a beer that didn't have the correct opportunity to shine as we intended. This is a beer crafted for a much wider audience than the dank IPA's and bombastic barrel aged beers that have put us on the radar of many craft beer fans.

When can we expect to see Cherry Street all over TN?
Tentatively by the fall/winter of this year.

What's the most exciting thing customers can expect to see coming from us in these new markets?
Tennessee will allow us the opportunity to showcase several styles of more traditional beer that we hold close to our hearts. Our love of a crispy lager, pilsner, rye style ales, and traditional German beers like a Hefeweizen and Gose will see a much wider net of distribution in Tennessee.