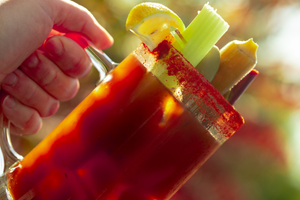 These Bloodies run deep
Come with us as we take you through a journey through a collection of Blood Marys, popular breakfast and lunch items that collide to make our famous brunch, and the makers behind this weekend favorite.
The brunch program really is designed for all ages and guests. With offering savory, sweet, vegan plus vegetarian options, and a kid's brunch menu there truly is something for everyone. "Chattanooga is a very 'brunchy' town and we wanted to ensure that we were catering to that. I've also have always had a passion for brunch and it was important to me to keep the brunch legacy continued throughout the company." says Alisa, co-owner of Cherry Street Brewing in Northshore. The legacy is indeed a lot to live up to, with two very successful brunch programs in Georgia to credit.

The story of Cherry Street brunch has its roots back at the original location in Vickery Village located in Cumming, Georgia. Alisa Tanner-Wall started the brunch program in Rick Tanner's Bar & Grille in 2011, before the Cherry Street brewery was even open. "It was something unique to the area and what set Tanner's apart from just an everyday lunch and dinner spot," says Alisa thinking back on her fledgling brunch program. It quickly made way for winning "best of brunch" in Forsyth county for years to follow. The brunch program expanded to location number two, Halcyon, and has amounted to tremendous success. 
Knowing the popularity of the brunch programs in Georgia, Alisa and Chef Steve Patafio were eager to create and debut a brunch program in Chattanooga, TN. The seasoned duo along with General Manager Ashley took from their experience in Georgia to create Chattanooga's newest and most versatile brunch in the city. "Brunch is near and dear to our hearts here - from Alisa, the self-proclaimed Brunch Queen, to our GM Ashley's favorite meal... We wanted to create a brunch atmosphere and menu offerings that would make it a must-do for every weekend," says Steve.
The menu features "fun and different offerings with options for all with a focus on quality. Both sweet and savory options, killer beer, and brunchy cocktails to kick off your weekends right!" says Steve, the man behind the menu. It's loaded with new menu items as well as a couple of favorites the team brought up from Georgia. "I think it's a good basis to know what are must-haves from our other locations, like the CSB Avocado Toast and the All American Sampler Plate." says Alisa.
As experienced as the team is with brunch from Georgia, it was important to the crew to bring some new, fresh flavors to everyone's favorite breakfast and lunch items. "My goal was fun and different offerings for everyone with both sweet and savory options - I think when you pair it up with the wide range of beer options and the awesome brunch cocktails Ashley developed it's unmatched," says Steve. The menu comprises traditional southern classics plus unique eats from Chef Steve. 

Brunch wouldn't be the same without a mimosa, or two. But why stop at a mimosa when there's fresh flavors from our GM Ashley on the menu? In addition to everyone's favorite classic mimosas, there are two Bellinis, an Agave Sunrise, and an Elderflower Spritz. If you've come in for the lunch side of things, definitely check out our Mule, Clementine Sage Gin & Tonic, plus the Rosemary Gin Fizz. The Bloody Marys are all modeled after different brewer's favorite combinations including pickled Marys and some with Cherry Street beer floaters too.
Want to try their favorite item from the menu? Both Steve and Alisa's favorite brunch item is the Lemon Poppyseed Waffle with blueberry compote and coconut milk whipped topping. As for the most popular items on the menu, the bestsellers so far have been the CSB Avocado Toast, Hangover Helper Skillet, and the Pork Belly & Grits. Alisa was quick to point out, the cornbread jalapeno waffle on our Chicken & Waffle Sliders is a creative take on the classic- chicken and waffles.
The brunch program in Chattanooga truly delivers on the motivation of the team to bring unique, memorable, and nostalgic flavors to the Northshore district and offers something for everyone.

If you want to see our menu and all of our brunch offerings, check out the menu through the link below.