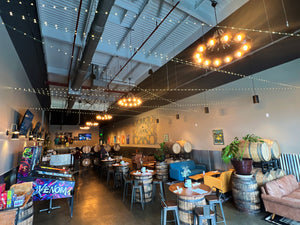 At our Northshore Location
A new layout, and even more to enjoy
An open letter from our Owner and CEO, Alisa Tanner-Wall announcing the recent changes at our Chattanooga location:

Opening up our Northshore location was one of our personal biggest accomplishments for my brother and I. For the past 10 or so years, my husband and I, Chase Wall the Creative Director, have visited Chattanooga as an escape from the bustle of Atlanta. When my brother Nick, my Business Partner and Brew Master, approached us with an opportunity to open a location in Northshore, we were more than excited for the chance to plant our roots here.
Since opening our doors in January 2022, our one mission has been to create a fun and social environment for families, foodies, and beer lovers. We take guest experience very seriously, and we have listened to your thoughts and suggestions with every aspect of our business. Today we are proud to show off some of the improvements we've made to make this the space you want to hang out at in Northshore.


One of the biggest issues we saw was the confusion with our patio hours not being full time and how it was connected to the 21+ side, but the patio is welcome for all ages. It's confusing just to explain; so we've fixed this confusion. We have now moved the restaurant over to the brewery side, so it is connected to the patio. We don't like barriers to being comfortable, so we think this change will make it more accessible to all of our guests.
Our goal is to be a hangout for your friends and family; your own personal spot. What we have done is turned our original dining area into a hangout area. It's now split in half. Now the front half is our gaming and lounge area and the back half is now a comfortable area for adults.
Let's focus on the front half. We have added pinball machines, group tables, games, and couches to create a space if you just want to come in and grab a beer or cocktail and chill with your friends and family. Sometimes you just want to grab a beer after work or want to play some games while you wait to be seated. This space is for you to hangout. You have access to the bar for drinks and have a special appetizer menu for munchies. This space is something we are going to continue to build, and are very excited to watch it grow.
Now the back half of the space; a chill place for you. We've separated the hangout area using barrels and turned the bar into an area to relax. It's more cozy than before. If you're looking for a date night and leaving the kids at home, this space is for you.
From our family, we sincerely appreciate everyone's patronage, comments, and suggestions on how to keep evolving to make this space a place truly for you. As we continue to grow with the Northshore community, we hope ya'll continue to give us feedback.

We look forward to seeing you soon.

Alisa Tanner-Wall,
Partner and CEO