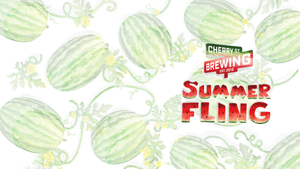 Summer Fling
The two best things about summer time: watermelons and blondes. Not a wheat beer here folks. A blonde ale with 15% Georgia watermelon juice and flesh added to secondary. Wow, what a summer treat!

Style: Watermelon Blonde Ale
ABV: 4.8%
This Summer Fling is the Real Thing
"Cutting, scoring, scooping, pouring. Rinse, repeat. This job is not for the faint of heart, but it is a crucial one, it's that of the brewers and volunteers on watermelon scooping day."

Continue on to read more about Summer Fling, and what goes into this beer.
Embrace the summer
Remember that feeling of those fleeting warm, sunny days and star-painted night skies with your crush by your side? Feel the rush of those magical moments with endless possibilities with a Summer Fling! This refreshing, crisp blonde ale is infused with sun-kissed South Georgia watermelons for the ultimate summer treat. Enchant your imagination with a pint of our timeless summer classic.

Request a Keg
Get a keg filled at one of our three locations. Submit a request for the size and style you'd like and we'll make it happen.
Go Now