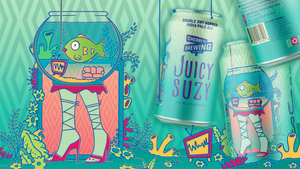 Double Dry Hopped India Pale Ale
Juicy Suzy
Double Dry-Hopped with Galaxy, Ekuanot, Azacca, and Comet hops. Expect a vibrant citrus and grapefruit character without the upfront bitterness, leaving a smooth and juicy finish. "Suzy is an artist, she paints quite a lotAn artist she may be but a genius she is not." Hope to see yall On Tour this summer! 
Style: Double Dry Hopped IPA
ABV: 7%
IBU: 50

See our Sales Sheet here.
splashing in the sea
Take a deep dive into the world of Juicy Suzy, our juicy American IPA. This summer seasonal is the star of the show, bringing a uniquely juicy twist to a traditional American IPA. Our advice? Grab a can, go outside, and marvel at the truly wild, weird, and wonderful world around you.
Request a Keg
Get a keg filled at one of our three locations. Submit a request for the size and style you'd like and we'll make it happen.
Go Now