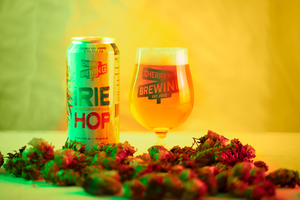 Irie Hop
Steppin' Razor's bigger brother, coming in at 9%, this double dry hopped double IPA has a double charge of Simcoe hops with Citra and Mosaic. Released twice a year. Ripe pine resin notes layered on top of tropical rays.

Style: Double Dry Hopped India Pale Ale
ABV: 9%
IBU: 60
Irie - All Right
Take a trip to the tropics with this bold double dry hopped double IPA. Irie Hop has double the Simcoe and a little more oomph to really ease your worries. The notes of pine and resin will have you in a higher state of mind and feeling those island vibes in no time.
Hopping into an Evolution
When talking about Irie Hop, it's usually referred to as Steppin's big brother. That means we add more malt and double Simcoe hops, but there's really more to the story. The Steppin' series starts with Baby Steps, moves to Steppin' razor, then Irie Hop, and graduates to OGL (One Giant Leap). The step, hop, and leap references show the evolution of an overarching theme in this series. It's the story of CSB and starting small, then growing and expanding and getting bigger. While Steppin' may be Irie's angsty, angry, and brazen counterpart, Irie stands as an elevated, focused, and composed figure that has developed beyond the finite beliefs found in youth. With this beer you'll find just that, a well balanced brew that comes from experience and introspection, crafted perfectly for an elevated drinking experience.
Request a Keg
Get a keg filled at one of our three locations. Submit a request for the size and style you'd like and we'll make it happen.
Go Now