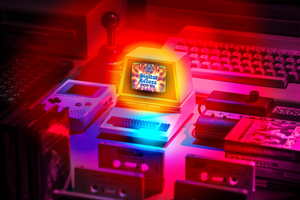 Digital Recess
Digital Recess is electric, vibrant, and alternative. Loaded with Citra, Cashmere, and El Dorado hops. Dialed up with ripe melon, soft peach, and bright citrus notes, this leveled-up hazy clocks out at 6% to playfully escape the loading screen of life. Recess is now in session.


Style: Hazy IPA
ABV: 6%
Where's your Recess?
Escape the loading screen of life, recess is now in session. If your recess is on your screen playing your favorite video games or getting away from your spreadsheets to go outside, either way this brew is the perfect companion. Enjoy the flavors of juicy tropical fruit, tangerine, and melon in this haze bomb, all year-round.
Request a Keg
Get a keg filled at one of our three locations. Submit a request for the size and style you'd like and we'll make it happen.
Go Now