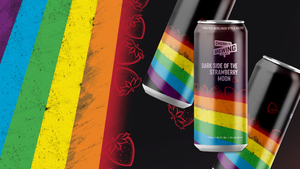 Dark Side
of the
strawberry
moon
Dark Side of the Strawberry Moon
This is "Them" of Us and Them. Dark Side of the Strawberry Moon is a tart and effervescent Sour Wheat Ale brewed in the traditional German Berliner Weisse method and heavily fruited with Strawberry, Blackberry, and Blueberry. Expect a clean tart character with a ripe fruit burst and vibrant mouthfeel finish. Brewed for those specials times, when once in a blue moon isn't special enough. "And after all we're only ordinary men."
Style: Fruited Sour Wheat
ABV: 4%
IBU: 10

See our Sales Sheet here.
discover the dark side
Reveal the mysteries from "them" with every sip of a Dark Side of the Strawberry Moon. You'll experience an awakening of fresh strawberries, blackberries, and blueberries in this Sour Wheat Ale. The strawberry moon celebrates the harvest of strawberries in June, and serves as the kickoff of berry harvesting season with blackberries and blueberries to follow. Follow the light through prismatic richness to trek across a spectrum of berries and unveil the mysteries of the unknown.
Request a Keg
Get a keg filled at one of our three locations. Submit a request for the size and style you'd like and we'll make it happen.
Go Now