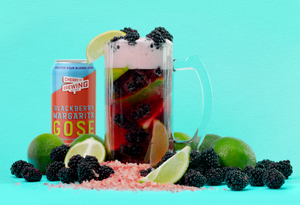 Blackberry
Margarita
Gose
Blackberry Margarita Gose
Gose style beer brewed with blackberry, guava, and key lime purees with coriander and pink Himalayan Salt added.
Style: Fruited Sour Blonde Gose
ABV: 6.6%
one good gose
Bring the party to the patio with a Blackberry Margarita Gose in hand. Experience the punchy flavors of blackberry, guava, key lime purée, and pink himalayan salt with every sip. This is the ultimate springtime companion; sweet, juicy, salty, and tart.
Request a Keg
Get a keg filled at one of our three locations. Submit a request for the size and style you'd like and we'll make it happen.
Go Now